Swarovski Crystal Small Pearl Earrings, Bridesmaids Gift Set Earrings, Junior Bridesmaids, Flower Girls Earrings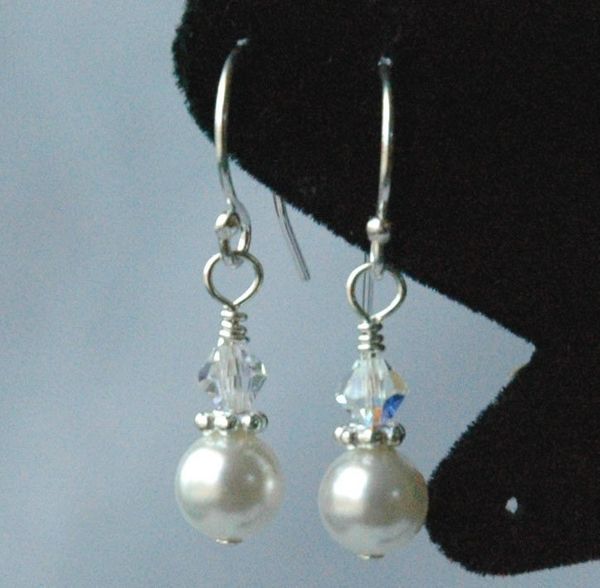 Swarovski Crystal Small Pearl Earrings, Bridesmaids Gift Set Earrings, Junior Bridesmaids, Flower Girls Earrings
***** HOW TO ORDER *******
1. Kind of earrings choose one option in the menu.
2. Color of pearls choose in the menu option.
3. Color of Crystal choose in the menu option.

Beautiful and small Earrings are feature wiht Swarovski Crystal White Pearls, bicone AB and daisy rondell. All parts are sterling silver. All Earrings Include Rubber Ear Wire Stopper/Clutches. These earrings measure 1 Inch long from the top of the earwires (the drop is about 5/8 inch). AB - Aurora Borealis If you like this design for your bridesmaids, other colors are available over request, just contac me and I send a picture with the colors available. If you like this earrings for your Flower Girl I change the earwire for Ball Post Earring, It's free! The size with Post Earring is: 7/8 inch or 2.2cm
Matching necklace is also available for purchase. Please see the pictures attached. You show in swarovski crystal cream and golden shadow bicone, but is available for delivery the next day in white pearl and swarovski crystal AB.
*********************************** JEWELRY INFORMATION *******************************************************************
Material: Swarovski Crystal, 925 Sterling silver Gem Type: Swarovski Crystal Width: 4mm, 6mm Shape or Style: French Hook Earwire Number of stones: 4 Stone shape: Pearls and Bicone AB Swarovski Crystal Size: 1 Inch or 2.54 cm.

Different colors: Violet, Golden Shadow, Light Yellow, Light Pink,Blue Zircon, Crystal Clear (birthstone color are avaliable). January - Garnet February - Amethyst March - Aquamarine April - Crystal AB May - Emerald June - Light Amethyst, Pearl July - Ruby, Siam August - Peridot September - Sapphire October - Rose November - Topaz December - Light Sapphire.
Thanks for looking. If you have any questions, please contact me.