Sterling Silver Shell and Hematite Initial Bracelet, Baby Boy Bracelet, Personalized Bracelet, Baptism, Christening, Boy Bracelet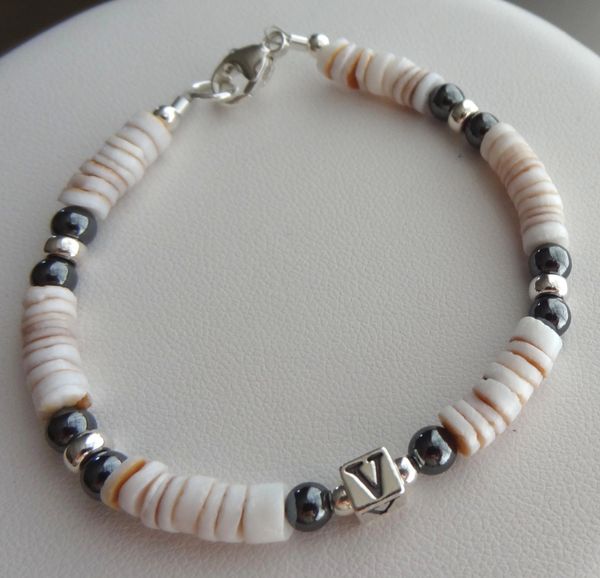 Sterling Silver Shell and Hematite Initial Bracelet, Baby Boy Bracelet, Personalized Bracelet, Baptism, Christening, Boy Bracelet
This bracelet is ALL BOY! Little boys need a fun bracelet too! The list is for the first and seconf picture This Masculine bracelet is made using white/brown Conus Shell Heishi Beads, hematite beads mixed with sterling silver beads makes this a fun and super cool bracelet. The Sterling Silver smooth beads and ridged round beads with Sterling silver alphabet beads. The Sterling Silver Alphabet Beads is 4.5mm.The bracelet also includes a one inch extender "grow chain". The beads are strung on professional quality (49 strand) stainless steel wire which provides strong, flexible, kink resistant and durability. All parts are sterling silver. NOTE: The bracelet large is clasp to ring plus extender. Inside your bracelet is small.
Visited the Profile for sizes. Please send me size and name when you purchase.
*All sizes are approximate Please see the chart below:
X-small --0-6 Newborn: 4.0 inches
Small --- 6-12 months: 4.5 inches
Medium --12-24 months: 5.0 inches
Large ----- 2-4 years: 5.5 inches
X-Large ---5-13 years: 6.0 inches
XX-Large --- 9-13 years: 6.5" inches
But please measure you little one's wrist to get the size you want and need. All you need to do is measure your childs wrist and add 1/2 inch to 3/4 inch.
****** WARNING ********
These bracelets should not break under normal wear, but please always supervise baby when wearing any type of jewelry, as it could pose as a choking hazard. Thanks for looking. If you have any questions, please contact me.