Sterling Silver Fancy Small Cross, Freshwater Pearl and Stamped Initial Pendant, Initial Letter, Birthstone Necklace, First Communion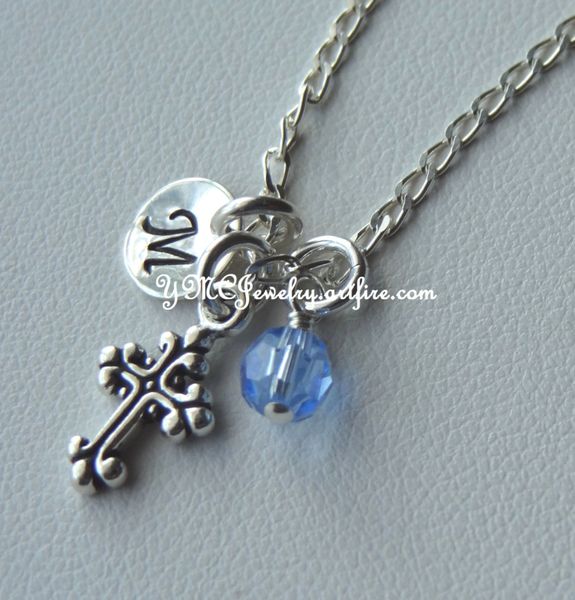 Sterling Silver Fancy Small Cross, Freshwater Pearl and Stamped Initial Pendant, Initial Letter, Birthstone Necklace, First Communion
The list is for the fist and second picture. 
 ***** HOW TO ORDER *******
 In the "notes to seller" during checkout please list the following information: 
1. Hand Stamped Disc Letter choose one option in the menu. 
2. Birthstone Bead choose one option in the menu. 
3. Necklace Size 14" or 16" inches 14" inches, "C", Nov - Topaz 
 This is a beauty, simple, and elegant set. This necklaces are tiny, in the picture looks bigger. This is Cute Charm Necklace it was made with 925 sterling silver tiny Cross, creamy white freshwater pearl (5mm), or Swarovski crystal birthstone, and 9mm Sterling Silver stamped disc. This precious cluster dangles from a Sterling Silver Chain Necklace 14" or 16" inches you can use the chain with or with out charms. 
 The necklace include three charms. ONE BEAD CHARM creamy white, baby pink(4.5-5mm), lavander freshwater pearl, or Brirthstone beads(5mm), Initial Disc 9mm. Tiny cross charm. 
 Send me a note to Seller Initial Letter Color bead -- cream white, baby pink, lavender freshwater pearl, or Birthstone beads. January - Garnet 
February - Amethyst
 March - Aquamarine 
April - Crystal 
May - Emerald 
June - Light Amethyst, Pearl 
July - Ruby, Siam 
August - Peridot 
September - Sapphire 
October - Rose 
November - Topaz 
December - Light Sapphire
 If you want this necklace for adult, please contac me. For adult size this precious cluster dangles come with a Sterling Silver Box Chain Necklace 18" or 16" inches. 
All parts are sterling silver. Thanks for looking. If you have any questions, please contact me. All my jewelry comes with a storage bag to keep safe from tarnish and an small jewelry box.