Something Blue Charm, Something Blue Bouquet Charm, Bouquet Charm, Swarovski Crystal Blue Cross Charm, Something Blue Wedding Bouquet Charm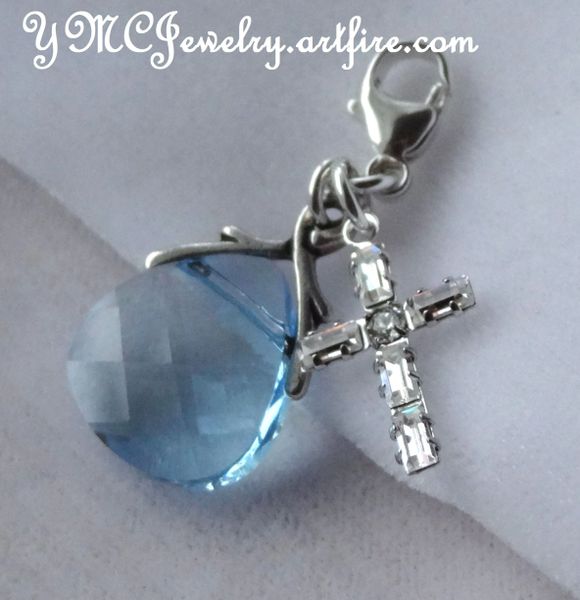 Something Blue Charm, Something Blue Bouquet Charm, Bouquet Charm, Swarovski Crystal Blue Cross Charm, Something Blue Wedding Bouquet Charm
The list is for the first picture.
Perfect for your "Something Blue" Wedding Accessory!
This is the perfect keepsake in your family.
This Something Blue Cross Bridal Bouquet Charm it was created with a large Swarovski crystal aquamarine briolette, 19mm Rhodium-Plated Cross Crystal, antique silver plated pewter vine bail. The charms hangs from .925 sterling silver lobster clasp. The jum rings are sterling silver too.
The charm measures about 1.5" long (including the clasp).
After the ceremony, it can become a necklace or added to a charm bracelet, European style bracelet. Some other ideas for these charms could be:
- Attach to a bouquet for your "Something Blue"
- Corsage accent
- Zippers on jackets and other clothing
- Key chain
- Lunch bag
- Purse or wallet
- Book bags
- Can be used as a crochet marker
- Necklace chain
- Attach to a bow on a wrapped gift for an extra touch