Baby Personalized Pink Pearl Baptism Rosary Bracelet, First Communion Pink Pearl Bracelet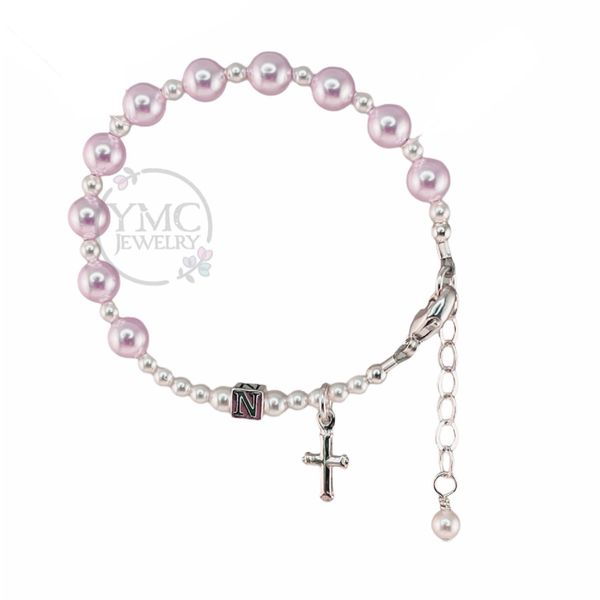 Baby Personalized Pink Pearl Baptism Rosary Bracelet, First Communion Pink Pearl Bracelet
The list is for the first and second picture.
Please read carefully  all description.
NOTE: Please when you buy send me a note with the letter, color of pearl, and  size do you like.
COLORS AVAILABLE FOR DELIVERY:
White Pearls-White small pearl, Cream/Ivory Pearls-Cream/Ivory Pearls,  
Rosaline (Pale Pink)-Cream/Ivory small pearls, Rosaline (Pale Pink)-White small pearls(like picture)
Light Purple-White small pearls, Light Purple-cream/ivory small pearls.
Light Blue-White small pearls, Light Blue-cream/ivory small pearls.
This beautiful and personalized Rosary Bracelet it is perfect for Baptism,  it was features with Rosaline (Pale Pink) Swarovski crystal pearls, the pearls represent the "Hail Mary" prayers, the sterling silver cube initial represents the "Our Father" prayer, and swarovski crystal  small pearls betwee each pink pearl, sterling silver beads and sterling silver clasp.  The bracelet also includes a one inch  extender "grow with me  chain" with small dangle pearl. The Sterling silver  cross is  12.5mm x6.5mm. The beads are strung on professional quality (49 strand) stainless steel wire which provides strong, flexible, kink resistant and durability.
This bracelet measure about 4 3/4" inches plus 1" inch extender chain in total your  bracelet is about 5 3/4" inches, the pearls I use for this bracelet are 5mm.
For the size 5 1/4", 5 1/2" and 6" the pearls I use are 6mm  with more small pearls.
All metal findings are solid sterling silver.
NOTE: ***If you like this bracelet with different colours is available over request, please allow up to one week and half or two weeks to receive your bracelet.
X-small --0-6 Newborn: 4.0 inches
Small --- 6-12 months: 4.5 inches
Medium --12-24 months: 5.0 inches
Large ----- 2-4 years: 5.5 inches
X-Large ---5-13 years: 6.0 inches
************ My items was all made to be as secure and safe as possible, but as with all small items PLEASE do not leave any sweetie under the age of 3 unattended while wearing jewelry.**********
Thanks for looking. If you have any questions, please contact me.